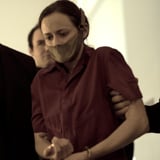 We're officially in some new fresh hell in 2018, and when it comes to The Handmaid's Tale, we're already looking ahead. If you read the book, you'll know that the first season finale ends in the same frustrating way the book ends: June is taken into a mysterious van and carted off to a mysterious future somewhere else. In this case, though, we don't have to wonder endlessly. How much can we uncover about the show's next chapter? Well, blessed be the fruit – we've got a lot to go over. Let's see what we could uncover (under his eye).
1. It's Going to Be Longer
While the first season was 10 episodes, the second has been extended to 13.
2. Alexis Bledel Will Reprise Her Role
Thought you'd seen the last of Ofglen/Emily? Not so fast. Bledel has been confirmed as part of season two's cast! We'll get a glimpse of Ofglen in the Colonies, the toxic wasteland where women who commit crimes are sent as punishment. "We get to see the colonies. It's a terrible place where they send Unwomen to work them to death," executive producer Bruce Miller said during a pre-Emmy panel …read more
Source:: Popsugar – Celebrity
(Visited 2 times, 1 visits today)