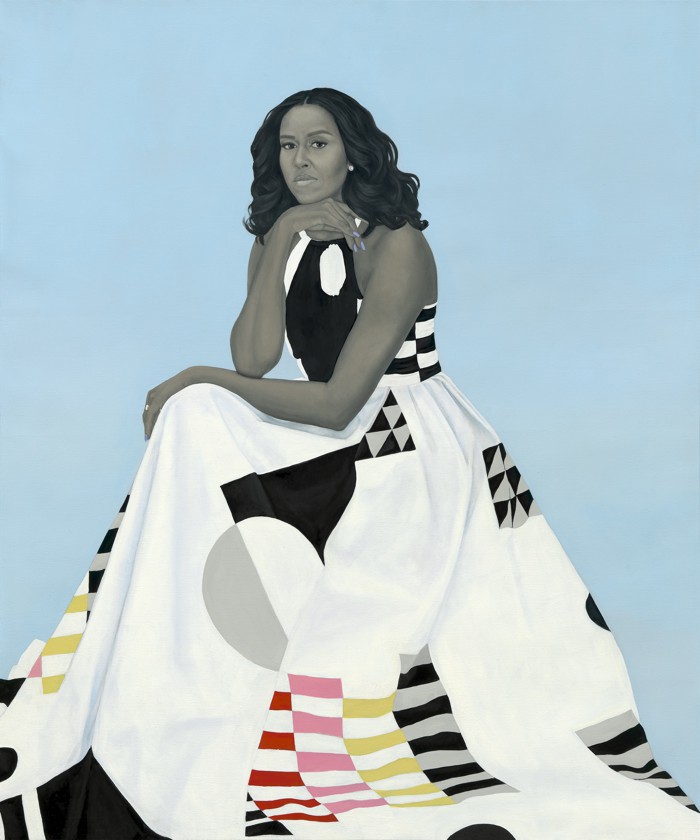 Jasmine, African blue lilies, and Chicago's favorite flower, chrysanthemum, flourish in the botanical backdrop of President Barack Obama's official portrait. The 44th president appears seated in an ornate chair, with leafy vines threatening to climb up his pant leg.
In her official portrait, First Lady Michelle Obama appears seated, too, in a flowing dress designed by Milly. Between her gown, with its touches of geometric patterning, and the sky-blue paint that frames her figure, the painting features a lot of hard-edged abstraction.
On Monday, the Smithsonian's National Portrait Gallery unveiled the Obamas' official portraits. President Obama's portrait, by the Los Angeles–born and New York–based artist Kehinde Wiley, will join the museum's hall of American presidents, where it will permanently disrupt the march of white presidential paintings. The portrait of Michelle Obama, the work of Baltimore's Amy Sherald, will be on view with recent acquisitions through November 2018.
These are the first portraits, of course, to depict a black president and first lady. They are not the first presidential portraits to be painted by African American artists— (2012), hangs in place of pride in the art galleries at the National Museum of African American History and Culture. The image was broadcast widely in promotions …read more
Source:: The Atlantic – Culture
(Visited 5 times, 1 visits today)