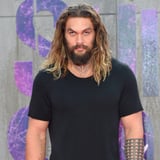 This week, a 2011 video resurfaced that showed Jason Momoa joking that his role in Game of Thrones meant he "got to rape beautiful women." The clip, from that year's Comic-Con, shows Jason cracking the joke before hiding under his coat as he notices the reactions from costars including Kit Harington, Emilia Clarke, and Lena Headey.
tw: rape
a horrific clip of jason momoa saying he loved working on #gameofthrones bc he "got to rape beautiful women." men are trash. pic.twitter.com/K2RBmsWEt6
– elizabeth (@peeanofreek) October 12, 2017
Unsurprisingly, the twittersphere was not happy to see this moment resurface and quickly called out the actor for the inappropriate nature of the joke.
AHAHAHAHAHA! Brilliant. Rape beautiful women. Funny. Funny stuff. *jumps off the planet* https://t.co/APbEEvdWFO
– amanda abbington (@CHIMPSINSOCKS) October 12, 2017
I shoulda known Jason Momoa was too fine to be worth a damn. Wow. https://t.co/EmuqEsknzo
– king crissle (@crissles) October 12, 2017
EVERYONE FACE PALMED. I think he really saw how much he went over the line when he saw his castmates so dumbfounded.
– kandi koated frights (@donutforager) October 12, 2017
That Jason …read more
Source:: Popsugar – Celebrity
(Visited 5 times, 1 visits today)