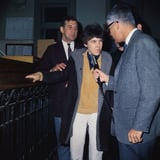 Image Source: FX Networks
The next episode of American Horror Story: Cult has an unusual episode title: "Valerie Solanas Died For Your Sins: Scumbag." It almost sounds like just a random assortment of words strung together, right? Well, Valerie Solanas is an actual historical figure who will be played by Lena Dunham, so we're here to help you out with a primer and some speculation as to how she might pertain to AHS season seven.
To know what Solanas was all about, we first have to talk about Andy Warhol. Andy Warhol was an artist known as a leading figure in the pop art movement. He worked mostly with painting and silkscreening and was known for his pieces depicting celebrity or consumer culture. Some of his most famous works include the Campbell's Soup Can and the Marilyn Diptych, a silkscreen painting of actress Marilyn Monroe.
Warhol definitely had a strong following – one might almost call it cult-like – which was only increased by The Factory, Warhol's New York City studio that was a hotspot for the big names of the bohemian, counterculture movement.
Image Source: Getty / Bettmann
In 1968, radical feminist Solanas came …read more
Source:: Popsugar – Celebrity
(Visited 6 times, 1 visits today)