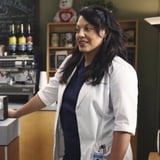 When Sara Ramirez (Dr. Callie Torres) announced her departure from Grey's Anatomy in 2016, she said she would be taking "some welcome time off" and that she and producer Shonda Rhimes would "definitely continue our conversations." She then attended an LGBT Heritage Month event back in May, where she told the crowd she was ready to "jump back in" to her career. So, what exactly does this all mean? Is Sara returning to season 14 of Grey's Anatomy?
Related
Grey's Anatomy's Season 14 Trailer Teases a Sweet Reunion For 2 Characters
Despite the recent speculation, it looks like Sara won't be reprising her role as Callie. "There are no plans at the moment," executive producer Debbie Allen told TVLine back in August. "We love her and we miss her, [but] there's been no discussion of it." While Sara may be gone from the show, we'll certainly never forget her.
Source:: Popsugar – Celebrity
(Visited 1 times, 1 visits today)