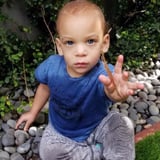 A post shared by Tyra Banks (@tyrabanks) on Jun 18, 2017 at 3:22pm PDT
Tyra Banks gave fans their first full look at her adorable 16-month-old son, York, while celebrating Father's Day on Sunday. In an Instagram snap of the baby boy, the model wrote, "To all the amazing daddies out there that love their kids unconditionally like my mommy's daddy and my daddy, too . . . HAPPY FATHER'S DAY! -York." The shout-out went to York's father, Norwegian photographer Erik Asla, as well as Tyra's dad, Donald Banks.
Tyra and Erik welcomed their "miracle baby" via surrogate in January 2016; while announcing the exciting news, Tyra thanked the woman who carried little York, saying, "As we thank the angel of a woman that carried our miracle baby boy for us, we pray for everyone who struggles to reach this joyous milestone." She shared a first glimpse of York the following month.
Source:: Popsugar – Celebrity
(Visited 3 times, 1 visits today)